After serving as a Machinist Mate in the Navy, Roland Ripple was released from the service in 1945. In 1946, he opened a Texaco Gas Station and 24-Hour Towing on Main Street Extended, Upper Marlboro.

A short time later, he leased a one acre parcel nearby on Route 202 to hold towed cars, some for storage and some for scrap! After a meager beginning with a hand driven winch on his wrecker, in 1948 he increased the lease to five acres, and due to increased requests, he began to sell more parts than scrap! Thus began Ripple's Service. He was able to purchase the leased property in 1952 and erected the original building soon after.

Roland's oldest son Joe was released from the Navy in 1966 and joined pop at the yard. Other sons and grandsons followed. In 1968 the company incorporated.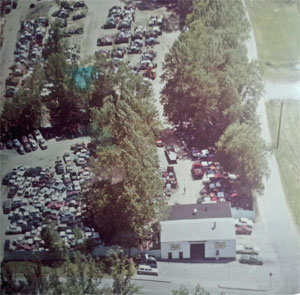 Today with more than sixty-five years of continuous operation by four hard-working generations of the Ripple family, Ripple's Service continues to serve the Mid-Atlantic region with the same courtesy and integrity as when the company was established.